Antipsychotic medications are meant to treat psychosis, but what about dementia?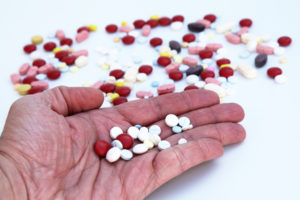 In an article on changingaging.com, in a two part series Dr. Al Powers discusses Guidelines for Antipsychotic drugs in Dementia.  Dr. Powers, ChangingAging Contributor, says "there are guidelines here in the U.S., both from the Federal government and from various professional organizations. But I believe these guidelines have holes a doctor can drive a med cart through. I believe we need to raise the bar in order to influence a change of habit in many professionals."
"Putting aside the obvious point that there is no risk-free environment, let's look at where the bulk of liability truly rests. These drugs have never been approved for use in dementia; in fact, the FDA has given them a black box warning, due to the risk of excess mortality and morbidity in this population. A doctor prescribing a drug for an unapproved use—with such a severe warning attached to the labeling—runs a much greater liability risk from an untoward side effect of the drug than from not using it," said Powers.
Black Box Warning:
The Food and Drug Administration (FDA) is charged with the responsibility of regulating most medicines used by the public in order to ensure that pharmaceutical products are safe. One of its most straightforward ways of doing this is by issuing black-box warnings.  The black-box warning appears on prescription drug labels and is designed to call attention to serious or life-threatening risks.
More dementia care professionals are speaking out about the use of antipsychotics with dementia patients.
An estimated 25% of nursing home and 13% of assisted living residents in the United States receive at least one antipsychotic medication in a given year. These medications are often used off-label and put the resident at risk for serious side effects. CMS has focused surveys on the reduction of antipsychotics in the nursing home over the past few years and rates have slowly declined.
Antipsychotic rates in nursing homes are required to be monitored as part of an overall quality program. The antipsychotic prescribing rate in both assisted living and nursing homes and the relationship between the use of antipsychotics and mortality remain an area of concern for providers, patients and families.  One of the methods for ensuring that an older adult is on the right drug is pharmacogenetics.  Pharmacogenetics is a simple swab of the cheek and helps guide healthcare professionals in proper prescribing.  Eliminating unnecessary medications and making sure residents are on the right drug, at the right dose, based on each individuals genetic profile. For more information, contact PGx Medical at info@pgxmed.com or 405-509-5112.
Read more on the two-part series at changingaging.com